Probiotics Promo: Buy 1 Get 1 Free Probiotics Ice Cubes for only $1.20 per pack
Can't get enough of 1-for-1 promotion? Check out this new Chinese New Year Probiotics promotion from Iceman Singapore – (Singapore Ice Supplier) offering Buy 1 Get 1 FREE Probiotic Ice Trays (6 cubes per tray) which you can put into your daily drinks.
The new probiotic ice was developed by Iceman Singapore in conjunction with Nanyang Technological University (NTU) of Singapore.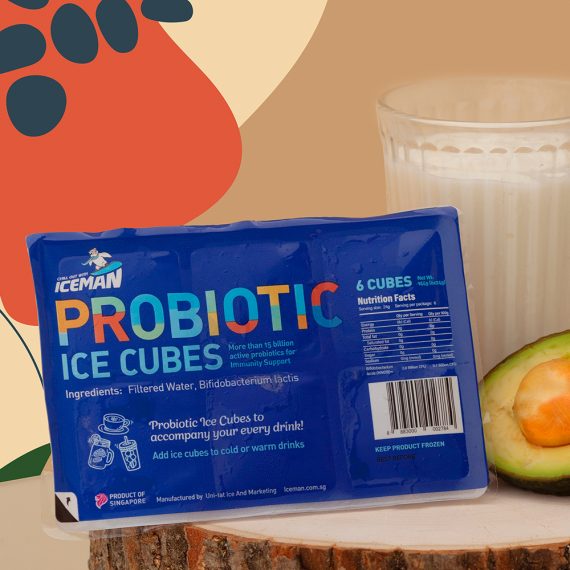 Usual price for a pack of Probiotic Health Ice pack is $2.40. Under this promotion, you will enjoy 50% off as each pack is priced at only $1.20!
A single Probiotic ice pack contains 12 cubes (6 cubes per tray – approx. 26g per cube) and can be added to drinks as probiotics supplement for up to 12 times.
Probiotics Ice Benefits
Getting your daily dosage of probiotics has just gotten easier and more convenient. Throw it in a drink or blend it in a smoothie, it's that easy. These tiny cubes also pack a load of benefits! Read below to find out more!
Probiotics conveniently infused into our ice cubes. Each cube is infused with enough probiotics to fulfill your daily probiotic count. Enjoy our Iceman's Probiotic Ice in any drink, whether juice, tea, coffee or even beers and wines!
Buy 1 Probiotics Ice Tray & Get Another Free Today
Simply drop a probiotic ice cube into your drink. Contains no sugar, no additives…just pure ice and probiotics. Take advantage of the 𝗯𝘂𝘆-𝟭-𝗴𝗲𝘁-𝟭-𝗳𝗿𝗲𝗲 𝗼𝗳𝗳𝗲𝗿 to boost your health with a dose of probiotic today. 
Promotion is valid till an unspecified period.
This is definitely a fantastic opportunity to try out the new Probiotic Ice Cubes with the limited-time promotion for Chinese New Year. Find more details and order the probiotic ice cubes now on www.polarmart.com.sg
Related: You might also be interested in our Staycation Deals Singapore, Warehouse Sale for November 2023