10 Best Hair Salon in Singapore: Chez Vous: Hideaway, TONI & GUY HAIRDRESSING AT MANDARIN GALLERY & Be Salon [2022]
Keep reading if you want a fantastic hair makeover but don't want to blow your budget on a fancy salon. Here are Singapore's top hair salons that are affordable and offer excellent service. When it comes to hair salons, there are countless possibilities, from high-end to basic.
1. Chez Vous: Hideaway
Hideaway provides you, your family, and friends with the ultimate hair salon experience. At their opulent hideout, housed in one of Singapore's top-rated luxury hotels, they covertly offer outstanding service. To keep you feeling and looking great all year long, the specially chosen gift packs will indulge you with goodies from their own-brand goods, opulent scents, and bite-sized spa experiences.
Why is this one of the Best Hair Salons in Singapore?
All chemical procedures now include bond-strengthening hair shots to lessen hair damage.
Utilize S-ion technology to thoroughly clean the scalp while preventing bacterial growth.
Utilizing plasma technology, sterilize the scalp while detoxifying and soothing the itchy scalp.
Customized Scent Journey: Unwind and find tranquility.
Heated Shoulder Pad—Allows you to relax completely.
Tibetan Singing Bowl: Encourages calm and serenity.
A welcome beverage that is antioxidant-rich.
Himalayan Pink Rock Salt Lamp: Relieve allergies while purifying the air.
Open-and-Shut Massage: Relax because you deserve it.
Offers Swedish scalp massages for five minutes.
Website: https://chezvoushair.com/hideaway/
Address: 391 Orchard Road, Ngee Ann City Podium, #05-05, S238872.
Phone: +65 6732 9388
Email: emailus@chezvoushair.com
Toni & Guy Hairdressing, which is renowned for providing high-quality service, offers a nurturing environment that is welcoming of everybody. You will be able to receive the greatest service in Singapore thanks to the experience of highly qualified personnel.
If you want a distinctive design and a modern appearance, this salon is the perfect option. Their professionals will assist you in achieving any goal, whether it be to change, update, or develop the finest style for you.
Why is this one of the Best Hair Salons in Singapore?
Offers a huge selection of hairstyles online so that clients may get ideas before visiting the salon, which showcases the best hairstyles from the last five years, and pick a suitable style for themselves.
Since this reputable salon is from England and has seasoned hair stylists who are familiar with international trends as well as Caucasian styles, hair textures, and face characteristics and shapes, it is a secure option for people with Western faces.
Seven locations of Toni & Guy are available, each with easy access and providing a chic, urbane setting for grabbing onto beauty.
Website: http://www.toniandguy.sg/
Address: #03-17 Mandarin Gallery, 333A Orchard Road, Singapore 238897
Phone: +65 6835 4556
WhatsApp: https://wa.me/6588245027
Be Salon provides its customers with top-notch hair services from its location in the heart of Singapore, hidden inside a recently remodeled shopping center. You can take care of your hair at Be Salon thanks to the professional staff of hairstylists there. They provide complimentary, individualized consultation sessions that are tailored to help you select the best hairstyle or treatment. While having your hair done using top-notch goods from Dyson, Japan, and Korea, you will also get free refreshments, a soothing head massage, warm blankets, phone charging, and free WiFi.
Why is this one of the Best Hair Salons in Singapore?
Experts in innovative hair coloring methods: From natural-looking micro-highlights to smooth gradient balayage and trendy color splashes like Ear Loop Highlights and Peek-A-Boo Highlights, the expert colorists at Be Salon will undoubtedly be able to create a masterpiece especially for you.
Everyone's hair is unique, which is why bespoke hair treatments are used. Be Salon is cognizant of the fact that there is no one-size-fits-all treatment. As a result, the professionals at Be Salon genuinely create hair treatments that are specific to your demands and lifestyle.
5-Star service at affordable rates: The team is made up of exceptional hairstylists with 10 to 21 years of industry expertise. Their inexpensive haircuts cost from $49 to $79! With such reasonable costs (Treatment from $89, Coloring from $119), Be Salon's service and inviting environment will surpass your expectations.
Website: www.besalon.style
Address: 9, Raffles Boulevard, #02-19, Millenia Walk, Singapore 039596
Phone: 6899 3667
Email: care.besalon@gmail.com
The concept of the beauty parlor is inspired on the Korean phrase kkotminam, which is directly translated as "flower boy" in English. It's a beauty/lifestyle salon at Bugis Junction that's dedicated to offering a full kkotminam experience offered by handsome stylists, freebies with floral themes, and a wholesome, endearing experience.
Why is this one of the Best Hair Salons in Singapore?
A Flower for Every Girl – To make each client feel especially special, their stylists are happy to gift their clients lovely wrapped flowers after each hair session.
One-Price-Fits-All – Our flat-rate pricing applies to all women, regardless of hair length, as part of their aim to make high-quality beauty treatments affordable to as many women as possible.
With the aid of their extensive network of influencers, Creative Color Experts aims to be the first to disseminate new hair color trends in Singapore. They do this by keeping up with celebrities and social media trends.
Website: www.coteminam.sg
Address: 200 Victoria St, #02-01 Bugis Junction, Singapore 188021
Phone: 8887 8801
Email: stylist@coteminam.sg
De Arte Hair Studio is a highly professional and award-winning hair salon in Singapore. Their dedicated team of professionals use industry-leading products to achieve the best results, using an array of services from cut, colour, rebonding, perming and treatments.
Why is this one of the Best Hair Salons in Singapore?
Their stylists have received training from licensed trichologists.
They make use of cutting-edge products designed especially for Asian hair.
There are herbal remedies available.
Website: https://www.deartehair.com
Address:
Paya Lebar Square, #01-22 Singapore 409051, Tel: 6635 7250
Tampines 1, #04-26 Singapore 529536, Tel: 6481 6757
North Point City, #B1-172/173 Singapore 768019, Tel: 6254 3255
Nex (De Hair Tique), #04-09 Singapore Serangoon Central 556083, Tel: 6634 4722
Jurong Point 1, #03-22/23 Jurong West Central 2 Singapore 648886, Tel: 6721 9879
Email: enquiry@deartehair.com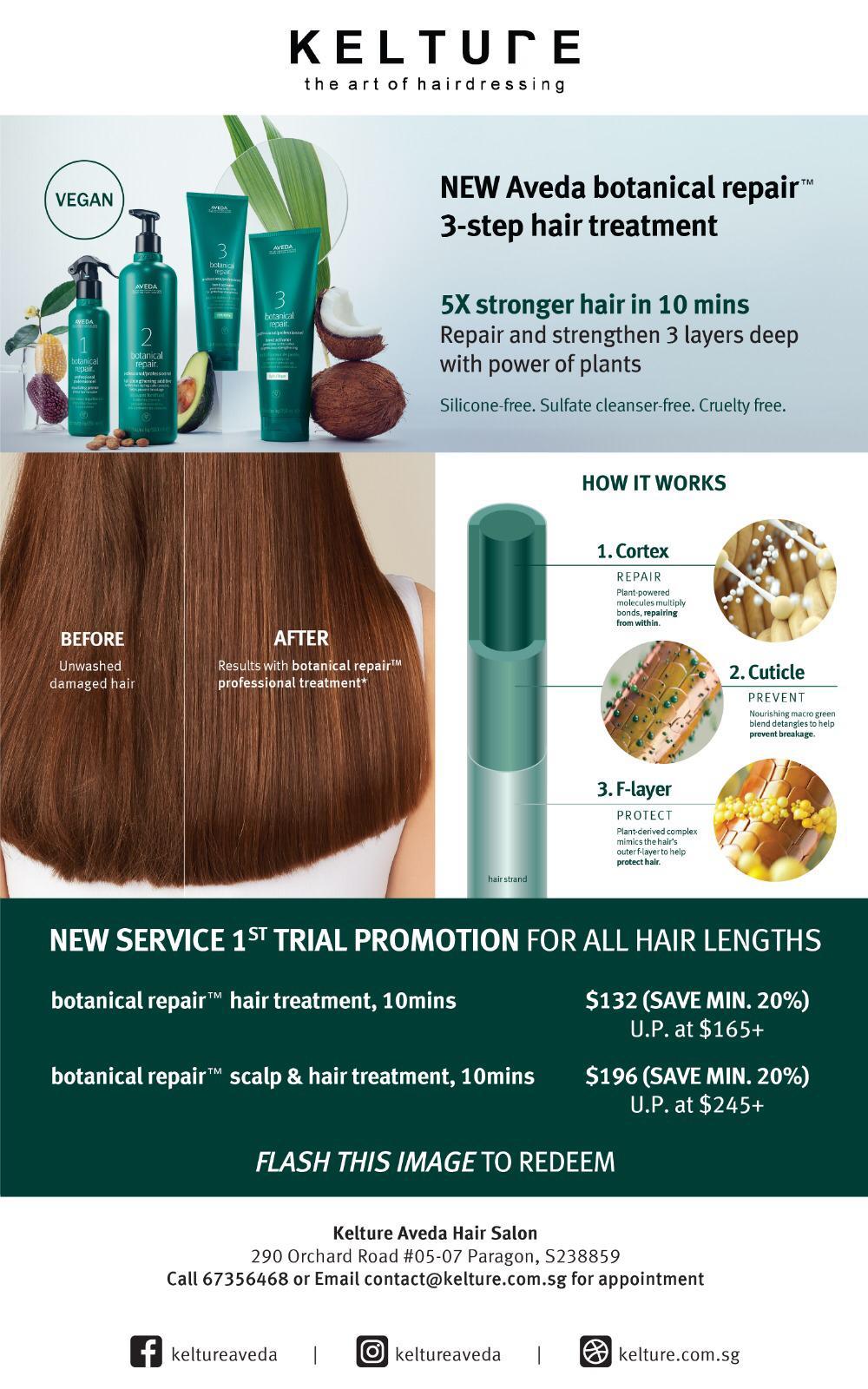 For clients looking for the most original and creative hairstyles in the region, including men's fashion, corporate job, wedding, and special occasions, Kelture Salon has been offering specialist hair-styling services.
The staff at Kelture Salon works hard to provide a welcoming and cozy atmosphere where customers may unwind after a long day. They think it's important to work with you to develop gorgeous, custom hairstyles based on private consultations that fit your personalities and lifestyles.
Why is this one of the Best Hair Salons in Singapore?
Use of botanical products.
Interlard of artisans with at least 10 years' experience who have received training in Korea, Japan, and the West.
Provides a 7-day service guarantee.
Website: www.kelture.com.sg
Address: 290 Orchard Road #05-07 Paragon
Phone: 6735 6468
Email: contact@kelture.com.sg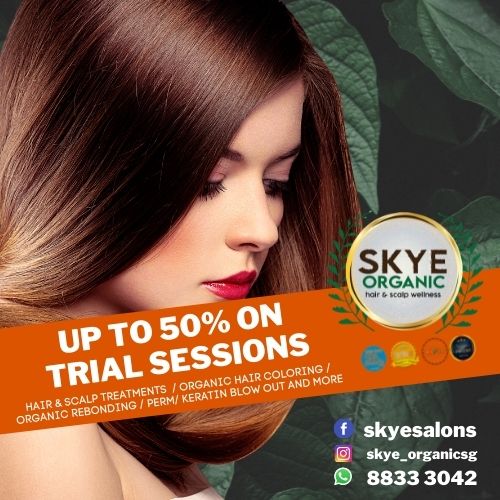 A well-known hair salon in Singapore called Skye Organic Hair and Scalp Wellness provides a variety of services to its clients, such as Brazilian blowouts and corrective coloring. At Skye Organic Hair and Scalp Wellness, they are primarily concerned with your health, appearance, and enjoyment. They strive to design really enjoyable experiences that are tailored just for you and take place in their quaint boutique-style setting.
Why is this one of the Best Hair Salons in Singapore?
Scalp treatments, hair end treatments, keratin treatments, consultation and treatment for hair loss, organic herbal coloring, creative coloring, high lighting, haircut and styling, re-bonding, wave perms, and wash and blow services are all available at one stop salons.
Safe for Women During pregnancy
Mall locations are offered
Utilization of Home Products
Website: skyeorganic.com
Address:
Orchard, Plaza Singapura, 68 Orchard Road, #06-20, Singapore, Tel: 6250 9906
Tanjong Pagar, 100am Shopping Centre, 100 Tras Street #04-09, Singapore 079027 , Tel: 6221 9818
Balestier, Zhong Shan Mall, 20 Ah Hood Road, #01-28, Singapore 329984, Tel: 6339 6400
Sembawang Shopping Centre, 604 Sembawang Road, #02-18/19, Singapore 758459, Tel: 6659 1145
Phone: 6735 6468
Email: info@skyeorganic.com
One of the best hair salons in Singapore is definitely Zinc Korean Hair Salon. They give the newest hairstyle trends, and their qualified stylists deliver results that last. The salon's interior is tastefully decorated with white marble floors and brass equipment. Zinc is a favorite pick thanks to its cutting-edge services and opulent decor with dark lighting. Visit Zinc if you're seeking for Singapore's top hair salon!
Why is this one of the Best Hair Salons in Singapore?
The shape, conditioning, and treatment for pre-wedding preparations are Zinc Korean Hair Salon's areas of expertise. They offer a range of services and expert opinions.
This salon primarily hires stylists from Korea.
Website: https://www.zincsalon.kr/
Address: 9 Raffles Blvd, #02-48/49, Singapore 039596
Phone: +65 8799 3357
Email: info.zincsalon@gmail.com
With regard to hair care, Salon Vim is a trailblazer, as it has been for many years among local influencers and online celebrities. No style is too difficult or bizarre for the experts at Salon Vim, who specialize in color treatments including ombre, balayage, and dip dyes. Additionally, the staff at Salon Vin cuts hair exclusively with L'Oreal Professional products.
Why is this one of the Best Hair Salons in Singapore?
Specializes in color treatments including ombre, balayage, and dip dyes; for its experts, no style is too difficult or bizarre.
Cuts hair using only L'Oreal Professional products.
Whether you need a color touch-up or a completely new appearance, their expert staff will assist you in finding the correct product.
Website: https://www.salonvim.sg/
Address: Blk 308 Bedok South Avenue 3 #01-339 Singapore 469454
Phone: +65 6734 6404
Art-Noise, a Japanese hair salon located in Holland Village, Singapore, focuses on innovative treatments that do not damage your hair with harmful chemicals. This is the ideal place for people who perm or want to grow their hair. They also offer head spas, including relaxing scalp massages with in-house nourishing shampoos and treatments.
Why is this one of the Best Hair Salons in Singapore?
Offers head spas with nourishing shampoos and treatments made in-house, as well as calming scalp massages.
The salon's in-house nourishing shampoo and masks are not only affordable but also made specifically for each customer.
Hair treatments are their area of expertise at Art Noise, making it a great salon for anyone who speak Japanese.
Website: https://www.art-noise.sg/
Address: 38A Lorong Mambong, Holland Village, Singapore 277694
Phone: +65 6463 3651
Email: hello.sg@art-noise.com
Our ranking of Singapore's top hair salons is now complete! When you are experiencing hair problems, we hope that our list of the top hair salons in Singapore has helped you choose a salon for all of your hair dressing needs.
Related: You might also be interested in our Staycation Deals Singapore, Warehouse Sale for September 2023